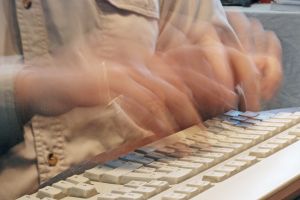 There have been lots of discussions going on whether it's still smart to be using duplicate content on your web pages. In this article, I want to give you my opinion about it and what I've personally noticed with regards to the use of PLR content or free reprint articles on my own websites and on my clients' websites.
First of all, let's have a look back 3-4 years ago. Back then, you could simply slap up a website which was scraping content from other sites or even from the search engine results pages (e.g. Traffic Equalizer as the one software which started it all) and you had a site that attracted a lot of visitors automatically because you had "optimized" content. Some people made a lot of money from these tactics (5 figures monthly) and they were building dozens of such sites on a daily basis.
Nowaways, these tactics are seen as "search engine spam" or "black hat tactics". There is a time for everything and if people were making decent money with it then it fulfilled its purpose – at least for the developers of those scripts and the ones who were using it (yes, I had used it as well in the beginning…). But the search engines wised up and were taking measures to detect that kind of content.
The next step the "lazy" marketers were taking was the creation of automatic content sites. There were (and still are) tons of scripts out there which will allow you to fetch articles from article directories and from RSS feeds directly and create a whole website with this content. You simply enter a keyword (or multiple keywords) and with a few clicks of your mouse, you had a whole website. After some time, the search engines found out about it and in most cases your rankings and your Google Pagerank was gone overnight – and so was the income!
Especially, if you had been using nothing else than content which got published from an RSS feed automatically which was one of the latest trends and had been done in combination with WordPress or with scripts which then created an archive of these published RSS news on your server. Your site could survive longer if you had been using a completely unique and modified website template for it. If you were using a website template that had been provided by the developer of such a scraper/RSS script, then you had to be prepared to lose your site fairly quickly.
A different way of building sites quickly was by using a desktop software (or online versions for that matter) which created a complete site from PLR articles you had sitting on your harddrive. As long as it was still working with the search engines, I had done it as well – after all, it's much quicker than to build something from scratch.
But what I've been noticing in the last few weeks and months from observing the rankings of dozens of those kind of sites was that these kind of sites were not getting great rankings anymore.
Personally, I've noticed a recent trend with my websites that completely new sites which have nothing but duplicate content on them are getting a greyed out Google toolbar (you need to have the Google toolbar installed to see this).
Meaning, they were penalized.
In the past, I had only seen this kind of penalty with scraper sites but Google has extended this to new, non-unique sites as well. At least, when you're starting out with a new site, you should be adding unique content on a regular basis now. Once I had replaced the non-unique content with unique articles, the greyed out toolbar was gone and it was white instead. That means that with the next Google update, the site will be getting a Google Pagerank.
So what is the next logical step in this "cat and mouse game"…?
The next step can only be to provide Google with what it really wants: Great and unique content. Yes, I know, it might be hard to build a site completely from scratch and write unique content for it. I would prefer some kind of automation, too…. But in the end, you'll be getting rewarded with more visitors from the search engines and better rankings in general and you'll have more loyal visitors if they see that you're providing unique content on your site.
Instead of giving your website visitors the quickest "exit" from your site by publishing rehashed and sometimes even very badly written PLR content and wanting them to click on your Adsense- or other PPC ads, you'll attract visitors who'll be staying on your site for much longer and who will be using your site as one of the first points of interest whenever they want to get new content on the same subject.
You can make use of this behaviour by offering them a free report or ebook and getting them on a mailing list. This way, you'll be able to direct them to your website every time you have some new content and you'll be able to make long term profits from your site by adding the proper monetization to it – not just from Adsense or affiliate programs.
You might also be able to get direct advertisers who want to advertise with you. This can mean easy monthly profits. A lot of sites which are getting many visitors are charging $200 and more for placing a simple banner on their site. In this case, you'll be building a real business instead of relying on the latest "fad".
I know this goes against most of what most others are preaching, that you need volume to build your VRE empire… One thing doesn't exclude the other, though. While you, yourself might only be able to build very few sites using this tactic, you should be using the profits from these sites to start outsourcing as much as you can to get more sites up and running. Instead of adding new pages to these new sites yourself, you simply find someone to do it for you.
You go to sites like Elance.com or Scriptlance.com and you post a project that you're looking for a reliable writer who'll be posting new content to your site on a regular basis. The easiest way to get this done is by using a WordPress blog. Pay this person per unique post (e.g. $2-3) and you're looking at monthly costs which will be quite low for these regular updates (the posts don't have to have the length of full blown articles – often 200-300 words are enough).
This is what I am personally doing now in combination with silo-structuring and LSI, I'm mainly doing Web 2.0 promotions and article marketing. With regards to my search engine rankings and visitors I must say that this has been the best step I've taken in a long time. There has hardly been something before that had such a dramatic impact on my rankings… and if you want to attract more visitors to your own sites then I suggest you start doing the same!