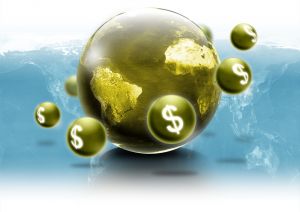 Again and again, I keep getting asked how someone can start making money without having to make big investments in expensive software or without having to buy big home study courses worth thousands of dollars, first.
These people usually have no money to invest and need money coming in quickly (sometimes, in as little as 7 days or their "house gets sold", they "lose their car", the "electricity gets cut off" or whatever other emergencies you can imagine…).
Below, you can read my answer to that:
Step 1: Find a niche
I guess, you've heard that before, haven't you…? But how do you actually know WHAT you should sell…?
In the beginning, with your first project, I'd recommend selling stuff that you're familiar with. Products which are related to maybe a hobby of yours or something that is related to your current job if you still have one. Not all hobbies or professions can be used to make money online with (e.g. if your hobby is "stamp collecting" and your job is "bath attendant" then I'd say better search for different niches to get into…) – so it really depends.
If it's not possible to make money from your hobbies or job then go into a niche that you have at least some knowledge in e.g. you tried to stop smoking or you have tried so many diets and none of them worked and you want to share your experiences with other people in these areas.
There's tons of stuff in the big affiliate networks on "stop smoking" or "weight loss" products. You should not try and sell Internet marketing related products just because there are other people out there who are making millions with it. If you don't have any in depth knowledge in this area or any interest at all, you're just wasting your time! (In case you have absolutely no idea which niche to choose, you could also try a tool called Niche Inspector by Myleena Phan – it's an excellent tool for uncovering niches.)
The more you can be an authority in your chosen niche, the better. Because even though you can outsource a lot of stuff, you'll do much better if you can write your own content because of the experience you have in that area. Freelancers do nothing but rewrite content that's already available on the subjects. They'll hardly ever write any groundbreaking news – unless they are real experts in the niches themselves…!
If you have a natural tone and you're writing from your own experience, your readers will recognize that and connect with you. This will make it easier to sell them things at a later stage. You should try to become friends with them rather than trying to push every product that comes along your way. There's a time for giving and there's a time for selling. Try balancing it as much as you can and provide more content than pitches. It's not always easy but that's what you should be aiming for.
After you're done deciding on the niche to get into, you should do your keyword research .
And no, you don't have to buy any expensive keyword research tool because there's a free one which got even better than it was before:
Google's very own keyword tool
It's now displaying the number of searches per month as well plus it's showing this for the previous month, too. So if you've chosen "stop smoking" or "quit smoking" as your niche, then just enter it there. It will show you exactly how many times people have been searching for this word.
But what's more important: It will also show you related keywords you can use to drive traffic to your pages. Because you won't stand a chance to get listed for the main keywords – those usually are highly competitive! All you have to do is to check out the competition for these related keywords which are usually called the "longtail keywords" because in most cases, these less competitive phrases consist of 3 or more words.
And what can you use to do competition research, you might ask…
Google again! Just head over to their main page page and do a search for e.g. "how to stop smoking" in quotes like shown in this sentence and click on "Google Search". You will then get the results for that query. You will see something like: Results 1 – 100 of about 801,000 for "how to stop smoking".
And that's your number of competitors . Usually, it's even lower once you click on the last numbers of the other linked results pages but you get my drift.
So how competitive can it be and when will it be too competitive?
When I get into niches and I'm creating web pages for these longtail phrases, I try to avoid keywords that have more than 1 mio. competitors – although sometimes I'm making exceptions to that as well. I aim for keywords that have less than 100,000 competitors and I love keywords which have less than 10,000 competitors because these are quite easy to dominate.
If you're a complete beginner, I'd go even lower: Choose keywords which have less than 1000 competing pages but which are getting at least 25 searches per day. They are not easy to find but they are there. It just requires some intensive keyword/competition research.
Step 2: Create a Squidoo & Hubpages account
Squidoo is an excellent platform for creating your own websites even if you have no idea about designing web pages. The only difference is that they call their individual, keyword based pages, "lenses" instead of web pages. But the basic SEO rules still apply and can be put into practice even more easily. Once you've got your content ready to go (my tip is to write it in Word or Notepad, first, I don't recommend writing it in their editor because the text area is too small in my opinion), then it becomes just a matter of pasting your written review or article into the input field and clicking the save button.
You can also add YouTube videos, RSS feeds, Ebay, other related products etc. – they call these things "modules" and they're very easy to add since you basically just have to add the keywords and they are doing the rest. Moreover, your Squidoo lens will automatically have Adsense on the page (using their Adsense ID) of which you get your share.
But your goal should be to get the clicks on your own ads because what you're making from Squidoo itself will usually not be worth it. Squidoo works best for pre-selling your affiliate products. Once people click over to the salesletter, they are already in a buying mood because of what they read on your pages. At least, that's how it should be…! Go ahead and sign up for Hubpages and make some cash
Alternatively, you can do the same thing on Hubpages.com. I repeat: This requires no knowledge about this techie stuff like designing web pages with HTML or PHP – you don't even need a web editor. All of that is done online through a simple click and point process and maybe adding some info into forms. The resulting page(s) can be spidered and indexed just like regular pages. The whole process works quite similar on Hubpages – the only difference is that they provide less modules than Squidoo.
Step 3: – Sell digital or physical stuff
Affiliate Networks are the places where a lot of product sellers are showcasing their products and where they try to find affiliates to sell stuff for them.
You probably already know that affiliate marketing is much easier to start with than being a product owner. Because all you have to do as an affiliate is to do the pre-selling for the merchant's products and then sending your visitors over to his website where the actual selling is done (hopefully, you'll be doing it AFTER having collected their email addresses!!).
Affiliate marketing works best if you have a way to contact those highly interested people. That's why almost every Internet marketer out there preaches that you have to build your list. You'll simply be missing out on a lot of additional profits you could have made by collecting email addresses – if you're not doing any list building activities.
Because if you don't, you only have one shot at getting a sale while if you've got their email address, you can follow up with them and keep building a relationship and sending them useful content and promotions. Your chance of making a sale from repeat visitors using followups is at least 10-25 times higher than without it…!
Here are 2 of the biggest affiliate networks for digital products:
Clickbank
PayDotCom
Clickbank & Paydotcom sell digital products like ebooks, software and e-courses. The great thing about promoting digital products is that they have the highest commission rates – many times it starts at 50% and goes as high as 75%! Simply go their marketplaces accounts.clickbank.com/marketplace.htm or paydotcom.com/marketplace.php and search for suitable offers related to your chosen niche – or you can even use the marketplace as your starting point if you're not sure what to sell!
And here's how you do it:
Sign up for Clickbank and sign up for Paydotcom and get your affiliate IDs (free with both). Then, you find products to promote and you simply create your affiliate links (this is done via their marketplaces, too) and promote them on Squidoo/Hubpages using review pages or simple articles about the topic of the product e.g. about "killing spyware" if you want to sell an anti-spyware tool.
That's a much better place to start than in areas where you can only make 1-25% on physical products (like with Amazon), although it depends on the product prices. 10% commission on a $2250 plasma TV is still a good amount of money. So it depends. Generally, you can say that digital products pay better but are more competitive while with lots of physical products, there's less competition out there.
With that said, here are the biggest affiliate networks if you want to specialize in selling physical products instead:
Commission Junction
LinkShare
Shareasale
Commission Junction, Shareasale, and LinkShare sell stuff you can actually touch – real physical products like books, perfume, furniture, car accessories etc. – you name it and they'll certainly have it. Of course, it's dependent on the products but commissions are seldom higher than 25%.
Personally, I prefer selling digital products since the whole sales process usually is smoother and the salesletters are converting better. With physical products, there are too many chances that the visitor gets confused or has too many choices to click away as the selling usually isn't done on a salesletter type of site (direct response).
This can be different for certain types of products e.g "i-Pods" or "i-Phones" because of the high demand but generally speaking I'd say that you need more visitors to make the same number of sales as with digital products.
In conclusion: Once you know what niche to get into, there should be nothing left that's holding you back. There are tons of products on all of the different affiliate networks I've just mentioned. I've given you a complete action plan on how you can make money without having to do any paid advertising and without you having to create your own HTML pages using some kind of web editor.
Now is the time for acting on it. Will you…?
===================================
There are hundreds of Internet marketers and even newbies who are making thousands per month from these tactics and they don't have to make any monetary investments – not even for hosting (only for an autoresponder account if they do list building like they should)! If you still need more in depth info on affiliate marketing using platforms like Squidoo and Hubpages plus a few other platforms then I'd recommend John Child's excellent Hinge Marketing Magic ebook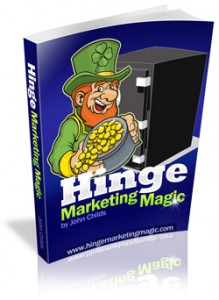 … or The Secret Cash Machine on Squidoo by Karl Pemberton if you want to be focused on Squidoo (works in the same way on Hubpages, too, though):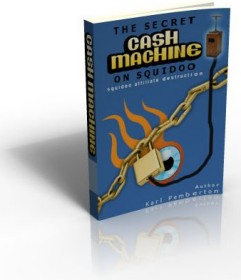 ————————————————–
( These strategies also work great in combination with Chris Rempel's Conduit Method since his ebook can tell you what kind of products you can promote and what content works best for them.)
That's it for today… Whatever you do… make sure you finally get active!! There's no excuse for not making a great income every month – only laziness.
…. What's your excuse for not taking action?