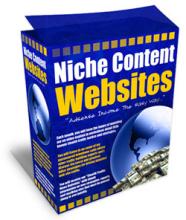 As you probably know, I have been offering Niche Content Websites for over 1.5 years until I stopped selling them because of the overwhelming workload to get them created.
I simply couldn't handle it anymore and I had to close the original Niche Content Websites membership site. But now at least the websites, articles and header graphics are back!
Because, I soon realized that not everyone was a member when the first ones were offered. And even this year's websites which I had personally created are only known to a select few who were members during the first 6 months of this year.
Finally, I had the idea to offer ALL of the sites in 4 different packages. Each package includes 48 NCW Adsense Websites with an alternative header graphic, 25 articles on each topic and excellent features like:
* Alternative Header Graphic
* 2 PSD Header Files
* Targeted Amazon Ads
* Rotating Article Snippets
* 25 PLR Articles Which You Can Rewrite
* Optimal Adsense Placement
* RSS Feed Integration
* Rotating Images
* Translations
* Comment form (with anti-spam captcha)
* Video Wall
* Simple PHP or HTML
* Clickbank Image Ads Where
Suitable (in the 4th package – depending on topic)
I think, these kind of websites are excellent if you're into niche marketing (which probably is the most profitable way of making money online since not everyone is an Internet Marketing/Make Money Online "guru"…).
Have a look at the 192 websites here:
To Your Success,
Detlev Reimer
P.S.: Even if you don't want to use the Adsense Websites as they are, you would be getting 384 different header graphics which you can use for other sites or even blogs related to the topics. You will never have to look for a header designer anymore…!!
P.P.S.: This offer won't last longer than 1 week. Then, the price of the individual packages/complete package will DOUBLE! (The content of this message has also been sent via email to my list today…)